BIA/Kelsey released its quarterly Investing in Radio Market Report, summarizing industry income for 2013 and identifying the 10 richest stations by revenue for the year. Overall radio revenue was flat at $14.3-billion in the 2012-2013 year-over-year comparison.
WTOP, the Washington, D.C. all-news station, took the top spot for the fourth consecutive year, with $64-million dollars earned. In the top 10 list, four of the stations are News, and a fifth (WFAN, New York) is Sports. CBS Radio owns five of the top-10 earners in New York, Los Angeles, and Chicago.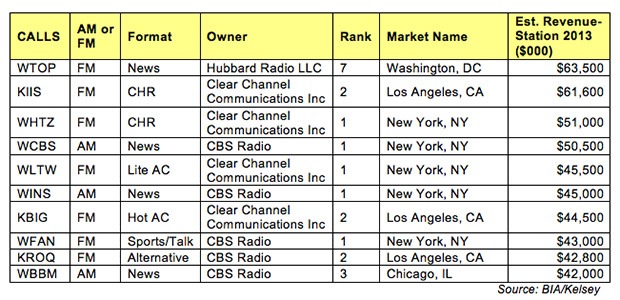 RAIN spoke to Dr. Mark Fratrik, SVP at BIA/Kelsey, about the forward path to success for broadcasters in all markets. He emphasized a multi-platform approach.
"You have to have a commitment of being more than just an over-the-air radio station," Fratrik told us. "It's a mindset of reaching the audience in many different ways. It is maintaining your brand in the marketplace along various avenues. And there has to be a commitment that it might not make money for a while."
WTOP seems to be following that prescription with a sophisticated newsroom producing content not only for on-air reading, but to stock a robust news portal on the web. On the social scene, WTOP tweets news about 15 times an hour, and serves its 62,000 Facebook followers with a rapid-fire stream of news, photos, and community service updates.
The BIA/Kelsey report does not break out digital earnings separate from the station's bottom line, but we asked Fratrik what he thinks of WTOP's assertive digital operation. (By coincidence, BIA/Kelsey is located in WTOP's listening area.)  "I think it's paying for them in a large way. You listen to the station, and it is always directing listeners to more information on the website, always talking about its social feeds. And the website directs visitors back to the broadcast. It's obviously a news-hungry market. Having multiple avenues to their audience, and multiple avenues to their audience for their advertisers, is job one.
The report does distinguish online revenue from over-the-air revenue for the industry as a whole. In that chart (see below), it is apparently still early days in the expansion of radio from broadcast-only to a multi-platform medium. Even projecting a growing digital side out to 2018, online revenues are predicted to comprise only about six percent of total industry revenue.