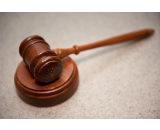 The Radio Music License Committee won a victory in court over the performing rights organization Global Music Rights. GMR launched in 2014 under a joint venture from former Live Nation Entertainment chairman Irving Azoff and the Madison Square Garden Company. When it debuted, GMR claimed that it could recoup higher royalties from radio and digital services for songwriters than the traditional PROs, ASCAP and BMI.
However, the new organization took heat from the beginning. A court case brought by the Radio Music License Committee brought antitrust accusations to the group and claimed that GMR was attempting to raise the price of pre-existing music licenses. A federal court in California has now ruled that GMR is "a per se illegal enterprise" and has violated U.S. antitrust laws.
"We were pleased but not surprised by the court's important ruling," RMLC Executive Director Bill Velez said. "GMR is worse than the other PROs. Its only purpose is to charge more for what could previously be bought for less. The court rightly recognized that there is no excuse for that conduct under the antitrust laws."
Velez added that he expects a clear path for the RMLC to achieve a final verdict in favor of its case.