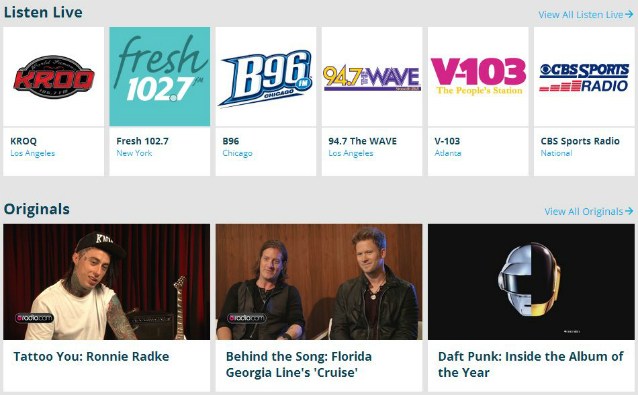 Radio.com, the website portal to CBS-owned radio and pureplay content, has significantly upgraded the design of its website, adding some new functions as well. RAIN spoke to Ezra Kucharz, President of Local Digital Media at CBS, for his perspective on the changes.
Kucharz told us that the website relaunch is more than just a redesign, but that the new layout was an important component. "We were looking for a way to simplify the user experience, to make it cleaner, easier to navigate and discover content," Kucharz told RAIN in a phone conversation. "We have the best content and talent in the industry. Now we are trying to take the player and website to a next level. It's an evolution and a foreshadowing of what's to come. It will change over time, and evolving with consumer demand and feedback."
Part of the upgraded functionality includes the streaming player on the site, and that new features are coming. "You'll start to see change in the player itself. we've made it embeddable to partners. We'll roll out that function to consumers in the future."
In addition to creating a better experience for existing users, the new website seems to be setting the stage for more content. "There are new streaming stations that we'll launch in the next couple of weeks. But initially it's about the user experience initially. We are taking the great content we already have and delivering it better … but you'll see new content soon.