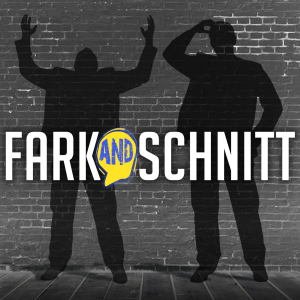 We got word today of a new podcast called Fark and Schnitt, part of a nascent podcast network run by ex-radio station owner Steve Lapa. The show, whose first episode dropped this week (listen HERE), brings together longtime radio talent Todd Schnitt with FARK.COM founder Drew Curtis to explore weird and funny news stories.
FARK is a venerable news site which unearths bizarre news items and invites reader comment and photoshopping. The combination of odd stories and often hilarious social commentary kills (in the humor sense). The podcast is founded on conversation around those stories.
Todd Schnitt hosted a #1 show at WFLZ in Tampa for many years. His current radio show (The Schnitt Show) is syndicated by Compass Media Networks to 50 stations around the country.
In a phone conversation with Steve Lapa, who used to own radio stations and now is growing a new audio business with podcasting, we learned that this formula might be the first combination of veteran and well-known talents from radio and web media have joined forces in podcasting. We have no idea whether that claim of uniqueness is absolutely true, but it is an interesting business venture.
No sponsors in Fark and Schnitt yet ("hopefully coming down the road" one of the hosts proclaims earnestly), but the show is repped by Crossover Media Group.