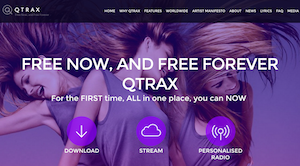 Qtrax is aiming for a relaunch some time in 2015 as an ad-supported streaming service that will stop piracy and better compensate artists. CEO Allan Klepfisz talked a big game in an interview with The Telegraph, calling those goals "two paradigm shifts."
The news of Qtrax's resurgence has been met by the music press with mostly skepticism. The company last made headlines back in 2008, when it was an ad-supported free download service that claimed to have licensing deals with the major labels. Several of those labels promptly responded that Qtrax had no such deals.
Not only does Qtrax have that mark on its name, but ad-supported streaming is already a crowded space. Appealing to performers is a great first step. Its business model plans to dedicate 30% of its equity for an Artists Trust and 10% of royalties are slated to go directly to artists and songwriters. That addresses the musicians who are releasing their own work, but having a competitive service will still require playing ball with labels and publishers. The freemium approach also has proven a very hard sell among the artist community.