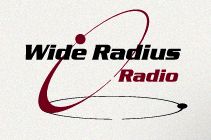 "We know what you've come for: Music, and lots of it." For no-nonsense, straight-ahead alt-rock with touches of top-pop, Chicago-based Wide Radius is a good choice. (www.wideradius.com)
Wide Radius is a donation-supported Internet radio station, and also runs occasional ads. We heard a live read of copy for a streaming solutions provider. To our ears, "native" advertising like that works better in an indie pureplay than programmatic ads jarringly inserted in the stream. And, needless to say, the ad load is much lower than on FM.
A pop-up stream player has worked flawlessly in our testing. Today we've been nodding to The Imagineers, Braid, Everclear, Lorde (there's the pop), Garbage, Audioslave, All That Remains, and more.
The Stand and Dave Show anchors the station's hosted material; it is archived as a podcast, but with the music removed (for licensing reasons). The unhosted stream is fine by itself.