Research firm BIA/Kelsey released a sponsored report called The Internet Radio Revolution Has Arrived, describing the growth of Internet radio and projecting its future. Using its own research supplemented by other sources (Edison Research, eMarketer), the report is a white paper that documents consumer uptake of Internet radio, identifies the growth drivers, and pins it to a conclusion that interactive audio ads can capture higher ROI for advertisers.
The free PDF report can be downloaded here.
The report establishes a projection that Internet radio consumption will rise from 148-million listeners in 2013 to 183-million in 2018. In this study, "Internet radio" includes pureplay services (both non-interactive like Pandora, and interactive like Spotify), and web streams  owned and operated by broadcasters.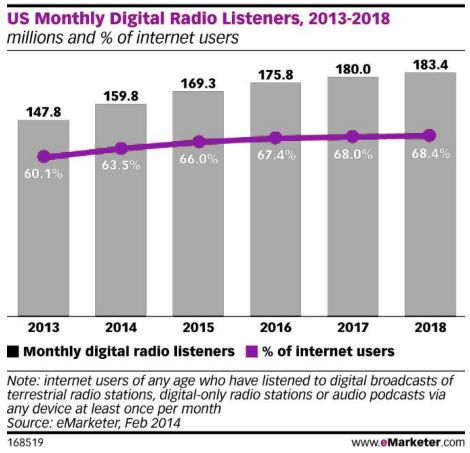 Audience reinvention is declared to be "a fundamental predictor of whether innovations succeed." Alongside that, BIA/Kelsey isolate three other factors that drive listening growth in the new platforms of Internet radio:
Platform Integration: distribution in mobile devices and cars;
Services Innovation: on-demand music, artist-based stations
Audience Reinvention: learning new interactions with audio
Advertiser Engagement: advertisers moving beyond experiment buys to budgetary commitment
Within those broad pillars of growth, BIA/Kelsey defines these characteristics of a changing market:
Increased audience consumption
New entrants vying for market share in various parts of this ecosystem that could lead to exits, M&A, partnerships or competition from
adjacent market spaces (e.g., video companies)
Increased platform distribution via connected cars
Mobile and tablet apps
Mobile ad networks: Such networks include programmatic buying platforms that make it easier for marketers to buy and evaluate the
ROI on digital radio inventory
The potential of voice-activated ads in capturing audience response is emphasized with two facts emphasized in the report. First, "hands-off" mobile consumption is on the rise. Second, phone responses to audio ads are particularly valued by advertisers.  (61% of advertisers value phone leads most highly.)