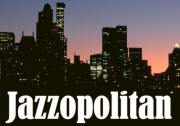 Consistently classy, evocative of a penthouse nightclub, Jazzopolitan plays a steady stream of soft jazz (not be confused with smooth jazz) — elegant, restrained, unintrusive. In our listening we heard Teddy Wilson, Nat King Cole, Mildred Bailey, Charlie Haden, Charlie Byrd, Aaron Neville, Ray Charles, Diana Krall, Sara Lazarus, and many more expert interpreters of American standards.
Jazzopolitan is created by Remy Jounin, a Parisian radio consultant. He also produced a classical pureplay station. the announcements are voiced by Vanessa Doulmen, a French comedian and voice artist.
Jazzopolitan is hosted by Radionomy, and a convenient inline player on the Jazzotopia worked flawlessly in our testing, with many starts and stops. You can pop it out into its own small window to tuck into a corner of the screen during desktop listening — our favorite solution.