Podtrac released the Top 10 Podcast Publishers ranking for June. In it, the tightly competitive reign of NPR (#1) and iHeartRadio (#2) continued as in previous months. The governing metric for these monthly reports is "US Unique Monthly Audience." A secondary measurement of "Global Unique Streams & Downloads" (basically plays) is included.
For this month, RAIN has remixed the ranker to list publishers according to the size of audience, and number of plays, per show produced by each publisher. The result shines light on the power of hit shows vs. the power of a network ecosystem.
First, the Podtrac table: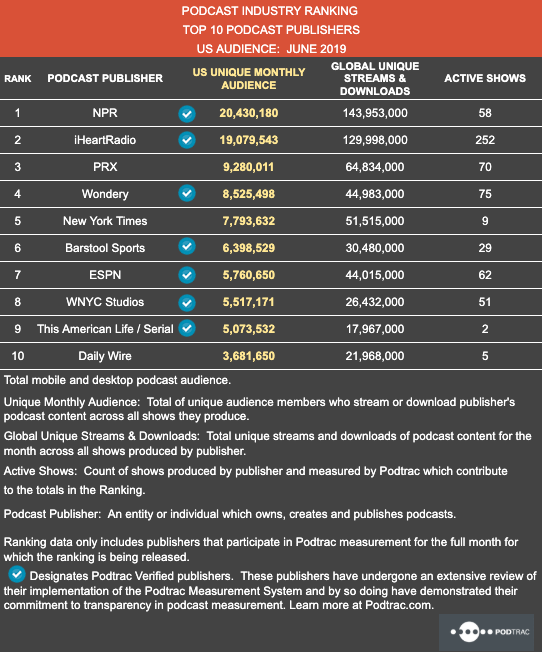 Podtrac notes the following two points:
Eight of the Top 10 publishers increased US Unique Monthly Audience in June over May with Wondery showing the biggest gain at 17%.
Average US Unique Monthly Audience across the Top 10 publishers for June was up 6% over May and up 47% over June 2018.
(Podtrac also adds this footnote: "As of April 2019, Global Downloads and Streams reflect updates to Podtrac's measurement algorithm and are not directly comparable to months prior to April 2019. Unique Monthly Audience numbers were not impacted by this update.")
Here is the RAIN remix, showing This American Like / Serial as the top publisher by a big margin, in audience per show and plays per show — across its tiny network of two hit programs, This American Life and Serial.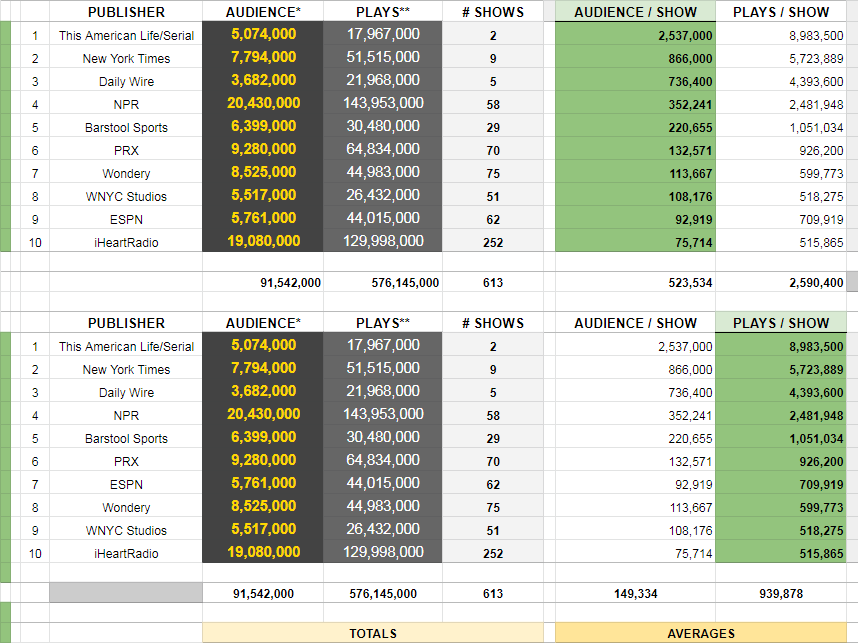 In this remix NPR moves to the #4 slot, showing the power of its second-largest network of 58 shows. NPR and iHeartRadio (#1 and #2 in the main ranker) have the two largest networks of this cohort. Here is a more compact chart view: