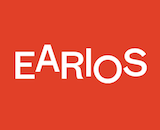 New podcast projects continue to come fast and furious, catering to new audiences or subjects. This week marked the debut of Earios, a podcast network focused on shows created by women. The network began with a Kickstarter campaign and is now powered by Acast. Earios is founded by Amanda Lund, Maria Blasucci, and Priyanka Mattoo.
The network is launching with three shows that premiered on July 1. Filling the Void is hosted by Lesley Arfin about the hobbies and passions people pursue for fun. Foxy Browns is about beauty and wellness for women of color and immigrants, hosted by Mattoo and writer Camilla Blackett. Web Crawlers is from social media personalities Melissa Stetten and Ali Segel about weird things on the internet. The Big Ones covers major moral dilemmas with Blasucci and Lund.
Earios has other podcasts planned for the future, including The Margaret Cho, an interview show hosted by the comedy legend herself, and Pleasure Studies from indie pop artist Feist.