Podtrac has released the June edition of its two monthly rankers: Top Podcasts and Top Podcast Publishers. Regular followers of these lists can probably recite the top three in each. For podcasts: The Daily (The New York Times), NPR News Now (NPR, posted hourly), and Up First (NPR). For publishers: iHeartRadio (with its colossal portfolio of 557 active shows), NPR, and The New York Times.
The peaceful repose of both lists extends through their lengths. In the Top Podcasts ranker, two new shows enters the 20-item list: Park Predators (AudioChuck) and The Dan Le Betard Show with Stugotz (Meadowlark Media).
On the publisher side, one new organization cracks the top 20: AudioChuck, as May entry Hidden Brain Media drops out.
Podtrac offers broad observations about the June tracking. Eleven of the top 20 publishers saw an increase in US monthly Audience in June over May. And the average US Unique Monthly Audience for the Top 20 publishers was up 1% month-over-month and flat over June 2020. So on the metrics side, apart from entities listed, not much change either monthly or annually.
As in other server-side ratings services, Podtrac measures only clients in its no-cost measurement service.
Here are the June rankers: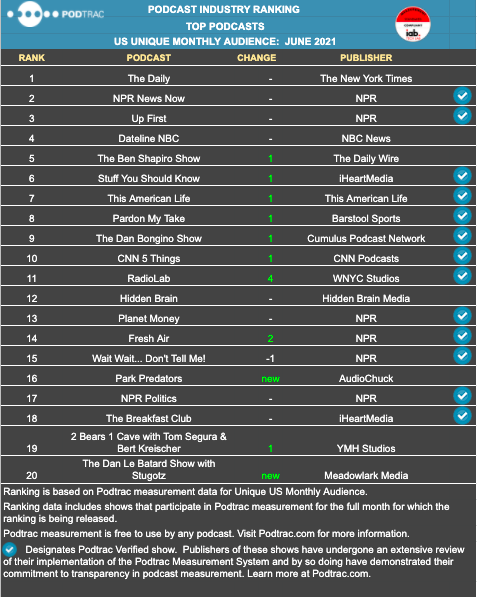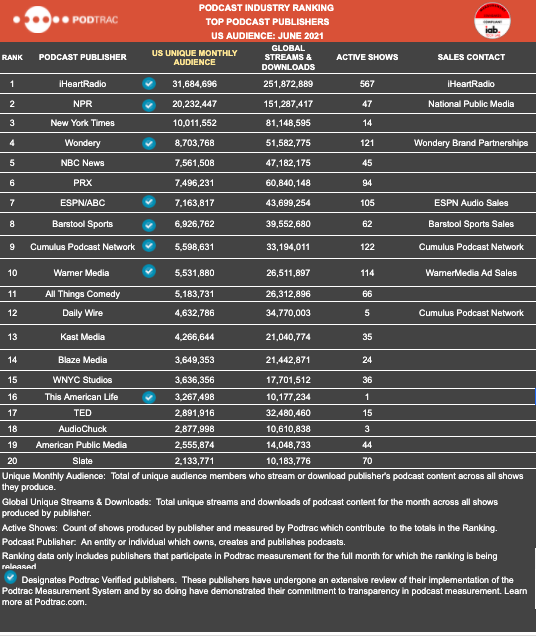 .