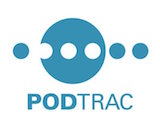 If time flies, one important tracking blip is the series of monthly podcast measurement reports from Podtrac. The Top Podcast Publishers list is celebrating its fifth anniversary in the April report.
The Top Podcasts and Top Podcast Publishers lists pioneered a ranking model for podcasts which has been emulated and modified by other lits which obtain results via various methodologies. Podtrac measures its clients (the service is free) and presents U.S.-based results.
We love comparing things, so naturally we want to put key podcast metrics from April 2016 and April 2021 side-by-side. Lucky for us, Podtrac has done that work.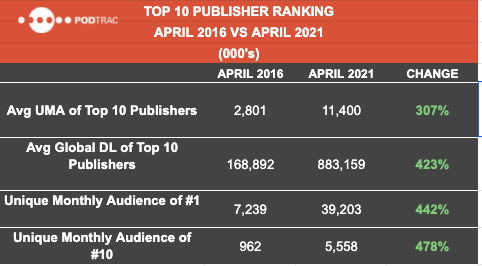 Four metrics are compared in the graphic above:
Unique monthly audience
Average downloads of the top 10 publishers
Audience reach of the number one publisher
Audience reach of the number 10 publisher. (Podtrac lists 20 publishers currently each month, but in April 2016 it was a top 10 list.)
Note the vaulting increase of reach and plays (downloads) over five years.
And now onto the April 2021 Top  Publishers list below, with notations underneath.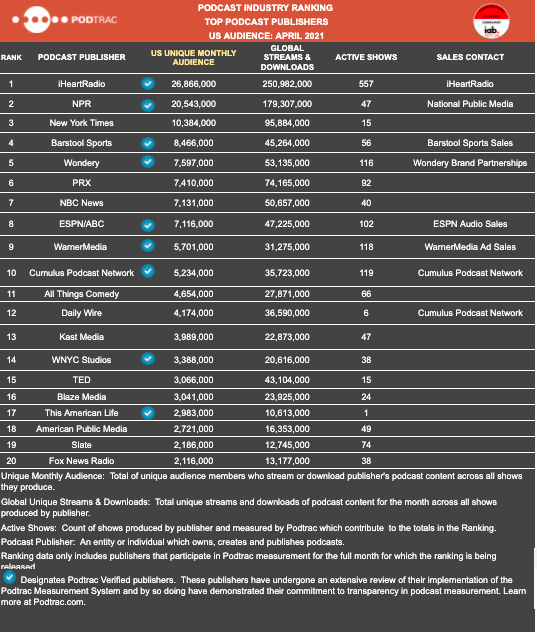 Podtrac's notations for this month:
Two of the Top 20 publishers saw an increase in US monthly Audience in April over March, while 6 saw an increase in Global Unique Downloads and Streams over the same period.
The average US Unique Monthly Audience for the Top 20 publishers was down 7% month-over-month and up 13% over April 2020.
Global Unique Streams & Downloads decreased for the Top 20 publishers by 2% from March and increased by 3% over April 2020.
.