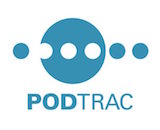 Podtrac has launched a third podcast ranking chart. In addition to its monthly list of the top podcast publishers and the top podcasts, the company has debuted a third ranker called Top 15 Snackable Podcasts. This new chart only contains podcasts where the average episode is 10 minutes or less, and it effectively breaks the Top 20 Podcasts chart in two, increasing the number of "top" shows to 35 programs of all lengths.
As with the other show chart, placement in the Snackable list is determined by unique monthly audience data for the podcasts that measure with Podtrac. Shows that are not Podtrac clients are ranked and placed in the chart based on feeding publicly available data into a Podtrac algorithm.
Podtrac has not made any official statement about the new monthly report. After last month's Top 20 Podcasts report was published, RAIN noticed some comment and criticism of one included program in the October Top 20 which was one minute long. That show, iHeartMedia's Trending Songs: Pop is an extremely concise rundown of current hits, and lands in the #1 spot of the new Top 15 Snackable Podcasts report.
In an email conversation with Podtrac CEO Mark McCrery, he noted that the Trending Songs: Pop program fulfilled all the "technical definition and delivery rules of a podcast" — and presumably all shows represented in the Snackable list do also. Looking back at that conversation, McCrery's comments seem to foretell a new lists in hindsight, motivated by broad consumption trends rather than the metrical performance of any one show:
"We're at a time when more apps and smart speakers are supporting podcasting," McCrery told us, "and more audiences are discovering them in different ways, and publishers continue to test and learn what types of podcasts audiences want to listen to and where, and how long they want to listen to which shows in different environments. As podcast platforms and audiences diversify, we can expect podcast content to diversify as well, and with that Podtrac rankings as a reflection of what audiences are listening to."
Here is the first Top 15 Snackable Podcasts report:
---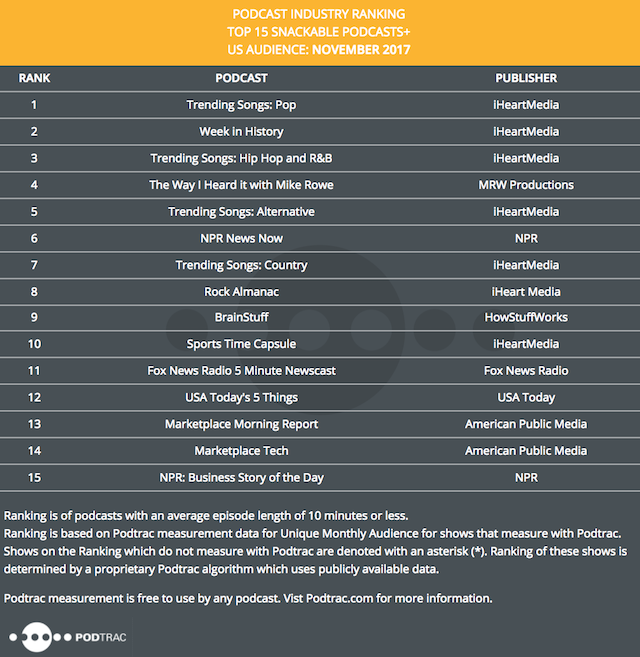 ---