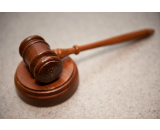 Personal Audio won its patent infringement lawsuit against CBS. The company is commonly seen as a patent troll, holding intellectual property rights for what it claims is an essential part of podcasting. A jury in Marshall, Texas, supported Personal Audio's claims and awarded it damages of $1.3 million. The company has outstanding patent suits against the FOX and NBC networks.
It's a disappointing verdict for many in the podcasting field, since it gives validity to the Personal Audio patent, which covers magazine articles read on cassette tapes. Even though that taped magazine approach never took off, the company still has a patent for the idea. Now it is claiming that podcasters need to pay licensing fees because of that patent.
Daniel Nazier of the Electronic Frontier Foundation said that the organization is still pursuing its legal challenge of the patent. He also noted that another patent troll challenge that failed in Texas court was successful when appealed to a Federal Circuit court, so there is still hope among the podcasting industry that this patent's applicability will eventually be chipped away.