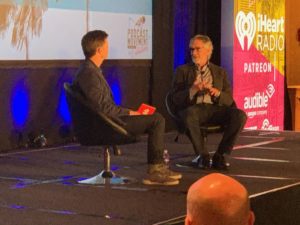 Podcast Movement Evolutions, an addition to the annual Podcast Movement conference and an expansion of it, was produced last week in Los Angeles. The venue, the Millennium Biltmore Hotel in L.A., was bustling with activity and signage.
The traditional Podcast  Movement, which has  been operating for six years, is a gathering for podcasters mainly, with business people around the fringe. Evolutions brought the enterprise layers into the staged sessions, while offering three tickets levels and four content tracks for attendees.
A differentiation was created for new and "active" podcasters — they bought the same ticket and could cross over into each other's tracks. In some cases the learning sessions were similar or the same. For example at one point in the three-day schedule podcasters could choose between "How to monetize a podcast without a big audience" (for new podcasters) and "The 5 essential elements to building a loyal and engaged podcast community" (for active podcasters).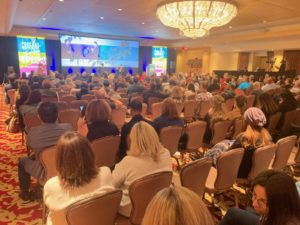 Professional podcasters  got  their own track and their own (more expensive) ticket. The third ticket level was for industry professionals. Again, some creator sessions stretched across to the pro's — an example was "Grow your audience with AI."
Keynotes were open to all ticket holders.
The industry professionals learned about advertising technologies, international audiences, crossing over to other media categories, asnd predictions of the future.
The annual Podcast Movement will be August 5-8 in Dallas.