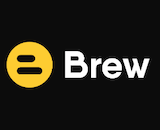 Another new podcast platform is joining the increasingly-crowded startup scrum. The latest project is called Brew, a subscription-based app backed by the Y Combinator startup accelerator that is highlighting new or up-and-coming podcastors. Including the $150,000 from Y Combinator, Brew has raised $400,000 to date.
The business model charges listeners $5 per month for access to shows. On the creator side, Brew will make payouts based on the number of unique listens a show acquires. It also plans to roll out a tipping system for listeners to give shows a little extra financial support, a nod to the founders' previous experience building Buymeacoffee.com.
The founders are using the same "Netflix of podcasts" language as fellow startup Luminary, which also announced funding of $100 million in support of shows driven by star power and celebrities.
"Podcasts, by nature, have a low barrier to entry and that's the best thing about podcasts, right?," Brew CEO Jijo Sunny said to TechCrunch. "Anyone anywhere can set up a podcast. To be a Netflix for audio, it has to be for all creators, not celebrities like Trevor Noah."
That's not to say Brew isn't leveraging some bigger names. The app launched with original ad-free shows made by YouTube personalities such as Boogie2988 and Jack Vale.
"Our vision is to help millions of creators earn a living doing what they love," Co-founder Madhavan Ramakrishnan said.