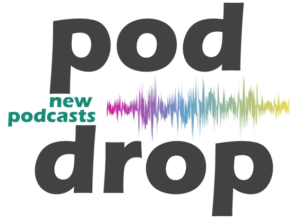 Pod Drop features new and returning podcasts. Today, great music from a legend, great fiction starring kids, and a harrowing true story of governmental abduction.
---
Live From Tomorrow
(The Podglomerate)
This is a podcast unlike any you've heard before. We spoke with Jeff Umbro at The Podglomerate, who agreed that the podcast is "weird in the best way." It's got a show within a show, and a star who is both fictional and real-life. That's Matt Hooper, who (just like his character in the show) quit his job in a bank to get into entertainment. Live From Tomorrow is a variety show at heart, with songs and scripted dialog, where Matt plays a fictional version of himself. Inside that framework, the real-life Matt Hooper interviews innovators who are working to lead the world into the future — hence the podcast title. Two episodes have dropped in what will be a limited, five-episode series. The trailer (below) doesn't effectively convey the fun or depth of the show, so skip straight to the first installment (HERE).
trailer:
My Funeral Home Stories 
(iHeartRadio & Grant Inman)
"This journal contains language and content that might not be suitable for all listeners." Never was there a truer warning. People die in all kinds of ways, and this podcast doesn't shy away from all of them. Grant is an assistant to a funeral home director, and he seems to take a deadpan delight, or a jaundiced joy, in relating his most shocking and unforgettable experiences picking up dead bodies for his family's funeral home. The show has almost no production effects — it is Grant's dead-serious (sorry) monotone reading as if from a journal. This is an ongoing podcast that just started its third season. Past narratives have included a suicide, a 700 pound dead body, and the new season starts out with an accident at a Fourth of July celebration that included a canon. The actual episode describes it in a way that will not be repeated here. If True Crime is the stalwart category of podcasting, this show takes a stab, so to speak, at True Death.
trailer:
RomComPods
(Pod People)
After a delayed launch that upset some eager listeners who were caught up by the trailer, RomComPods is off and running with a slew of 5-star reviews. It's a fiction show — romantic comedy, naturally — and Season 1 is about Claire, who was dumped just before her wedding, and goes on the Italian honeymoon anyway. The tour guide is named Matteo. We needn't say more. The show is created by Rachael King and Becca Freeman. It's got a light production touch with some incidental music and gentle sound effects. Easy to listen to, and easy to get hooked on.
trailer:
---
Listen to the Pod Drop Podcast