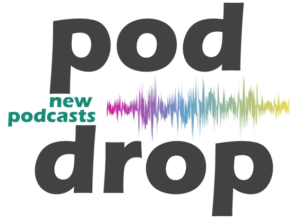 Pod Drop features new, interesting, and returning podcasts. Shows qualify for Pod Drops if they have fewer than five shows posted, at least one of them in the last week.
---
The Kids Are All…Home (Pineapple Street Studios)
While podcasting is a listening choice for quarantined households, Pineapple Street Studios is bringing podcast creation into those households with The Kids Are All…Home, a show by, and for, kids. "Making a podcast is really easy, literally anyone can do it," the production company writes on its show page. "You can do it on your or your parents'/guardians' phone, or laptop, or their professional music studio (If your mom is Beyoncé, please tell her we love her)." The show aspires to feature voices from all around the world, each episode revealing what it's like for kids to be stuck at home and what they're doing to fill their time. Parental consent (a signed doc) is required to join in.
The Kids Are All…Home trailer:
Doctor's Log (Pineapple Street Studios)
Pineapple Street is definitely leaping into creative mode during the coronavirus phase. this one has not yet dropped — we spotted the trailer (listen below) for this unannounced new podcast from the company. The show doesn't appear on the network's website as of this post. According to the trailer description, Doctor's Log is a joint effort of The Meteor and Pineapple Street. Dr. Esther Choo, an emergency room physician in Portland, Oregon, will deliver a daily report from the front lines of the coronavirus crisis: her own ER. She takes listeners into the real world doctors and nurses are facing now, as they grapple with coronavirus.
Doctor's Log trailer:
Here's The Deal (Joe Biden)
The ex-VP and current presidential candidate has launched a podcast. Choosing this platform during a time of social quarantine, when traditional campaigning is impossible, is by itself interesting. Now mention of how the show is produced. One episode has dropped, the front part of which serves as a trailer (listen below). The format promises to be interviews, and the first guest is Ron Klain who was a White House Ebola Response Coordinator. The show also fields questions sent in by listeners, and the first episode is seeded with a couple of those. Nick Quah mentioned in today's Hot Pod that the podcast was hard to find in the usual listening platforms at his posting time; we also found blank spots, but it seems to be propagating now. The certain place to hear it is the Biden show page.
Here's The Deal trailer: