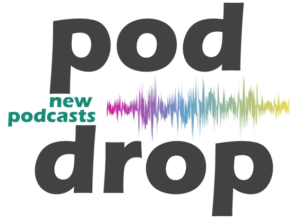 Pod Drop features new, interesting, and returning podcasts. Today, new podcasts from Frequency Machine, Los Angeles Times, and American Public Media.
---
Passport (Frequency Machine)
"Passport" sounds like a travel podcast, but it's really more like a destixyznation show, or even a history show, or really a documentary show … well, certainly it's a storytelling show. One of the first shows to win financial and production support from Podfund, a venture capital startup whose mission is to fund early-stage podcast ideas and turn them into mature shows. Each episode focuses on one destination and a pivotal story about that place which helps define it. The first episode is in Belfast, and describes how it got reshaped when Game of Thrones filmed there. The second episode is located in Los Angeles, and tells the Charles Manson story. Upcoming episodes will dive into Helsinki, Jerusalem, and Beijing. The stories there are sociological, political … and sometimes just weird.
trailer:
Can't Stop Watching (Los Angeles Times)
Hosted by L.A. Times television reporter Yvonne Villarreal, Can't Stop Watching features conversations with TV stars who've helped make the recent weeks of self-quarantine both bearable and entertaining. The actors and showrunners interviewed on the podcast will talk about their most fascinating roles, how their characters would handle the coronavirus (which is a great question), and what they're watching on television right now. This is a celebrity-infused quarantine survival show.
trailer:
Julie's Library: Story Time with Julie Andrews (American Public Media)
In this podcast, Oscar-winning actor Julie Andrews hosts with her daughter, Emma Walton Hamilton, who is a children's book author. The two of them read children's books — that's the library part. They bring in the authors sometimes and guests, and kids play a part too — they adorably introduce the episodes. The stories are livened up by lots of music soundtracking and some special effects. Of course, Julie Andrews is a magnificent children's book narrator, and Edna keeps pace as well. The shows are 20 minutes long, nicely tailored to a kid's attention.
trailer:
.