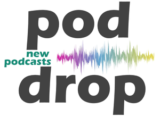 New podcasts of note:

The Jab (The Economist) / News / Weekly / Website / Apple
The Economist unlocks the science, data and politics behind the most ambitious inoculation programme the world has ever seen. Alok Jha, The Economist's science correspondent, hosts.

The Washies (Westwood One) / Fiction / 3-episode drop / Website / Apple
(Fiction) In the not so distant future of 2025, amid a backdrop of significant political unrest, a TV producer finds and promotes five millennials who happen to be direct descendants of George Washington.

Suave (Futuro Studios & PRX) / Society & Culture / Weekly / Website / Apple
The U.S is the only country in the world that allows minors to be sentenced to life in prison without the possibility of parole. Approximately 2,500 juveniles have been effectively sentenced to die in prison.