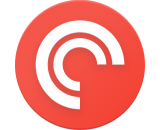 The Pocket Casts podcast listening app is making its debut on Amazon Echo smart speakers with its first Alexa skill. This update will see shows be accessed on the hardware with voice commands. The commands can pick up listening to an episode on a smart speaker, ask for a recommendation, request a random show, or play the latest episode of your favorite program.
This development follows an update from November that added Siri Shortcuts to the app, which allow iPhone owners to use voice prompts. And Pocket Casts content can be sent to other smart speaker brands without voice skills; Google Cast can send podcasts to Google Home hardware and AirPlay 2 can beam audio to the HomePod.
Pocket Casts was acquired by a quartet of public media outlets — NPR, WNYC Studios, WBEZ Chicago, and This American Life — in May. In addition to the Siri Shortcuts, the app received a redesign with other new features in November.