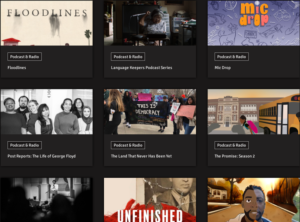 Peabody has announced its final nominees for this year's awards, bestowed in June. Among the categories of Entertainment, Children's/Youth, News, Documentary, and Public Service is a collection of eight Podcast & Radio nominees. (See below.)
Interestingly, none of the eight belongs to a pure podcast company or individual, unconnected to a radio group, newspaper, or magazine, and not derived from a radio show. (You could make a case for Unfinished: Deep South, from Stitcher, if you discount its parent company SiriusXM.)
Here are the Peabody nominees:
"Floodlines"
Revisiting Hurricane Katrina, "Floodlines" offers a story from the people who lived through the flood and its aftermath—a story of rumors, betrayal, and one of the most misunderstood events in American history.
The Atlantic (theatlantic.com; podcast platforms)
"Language Keepers Podcast Series"
This six-part podcast series honors the amount of work and care that goes into preservation as it explores the struggle for Indigenous language survival in California.
Emergence Magazine (Emergence Magazine)
"Mic Drop"
This podcast from teenagers offering stories in their own voices, relays raw and real testimonials on subjects like the stress of living between two homes after a divorce, adjusting to life after a father's deportation, dealing with drug pressures at school, and what it's like being at odds with your identical twin.
CBC Podcasts (CBC Podcasts / TRAX from PRX)
"Post Reports: The Life of George Floyd"
We all know about the death of George Floyd. This special episode of "Post Reports" gives us a full treatment of his life, and tells the story of Floyd's family, his upbringing and how racism hobbled his ambition.
The Washington Post (washingtonpost.com; podcast platforms)
"The Land That Never Has Been Yet"
This podcast series with John Biewen and Chenjerai Kumanyika excavates our well-worn narratives about American democracy and demands a re-examination of our history. Our democracy is in crisis. But how democratic was America ever meant to be?
Scene on Radio (PRX)
"The Promise: Season 2"
An immersive series about inequality and the people trying to rise above it, "The Promise" grapples with public education and race in Nashville, with one school trying to stay afloat, a neighborhood divided over race and economics, and a city that's resisted school desegregation every step of the way.
Nashville Public Radio (Nashville Public Radio)
"This American Life Episode #713: Made to be Broken | Act 1 – Time Bandit"
A captivating and contemplative audio experiment, "Time Bandit" sits with composer and musician Jerome Ellis, who at an annual New Year's Day performance event, got on stage with no instrument and broke a small rule in a monumental way.
This American Life (thisamericanlife.org; podcast platforms)
"Unfinished: Deep South"
The cold case lynching of Isadore Banks, a wealthy Black farmer who was murdered on the Arkansas Delta in 1954, whose vast wealth—farmland, businesses, and other property—all mysteriously disappeared.
Stitcher, Market Road Films (Stitcher)