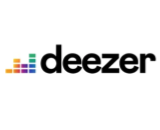 Global audio streaming service Deezer is becoming a cornerstone investor in DREAMSTAGE, a U.S.-based live music streaming startup. (No financials are disclosed.) The new funding will enable the company to significantly speed up growth and expand its operations. In the announcement, Deezer cites a MIDiA Research projection that global live music streaming will grow to $6.4-billion by 2027.

Dreamstage has produced 50 live shows since it launched. To date, the platform has specialized in classical concerts, featuring Yo Yo Ma, Grace Park, and other soloists and chamber groups. Dreamstage offers musicians a ticket sales solution, merchandise sales, and a donation mechanism. The company envisages live music videos as a growing entertainment format, and also produces simulcasts of in-person concerts.
Deezer says this: "Deezer has a vibrant global subscriber base, state of the art technology and one of the largest catalogs in the industry. The companies will work closely together to find synergies and opportunities for co-promotion. This means that music fans will have more ways than ever to engage and support the artists they love."
And from Deezer's CEO Hans-Holger Albrecht: "DREAMSTAGE and Deezer share a vision of supporting talent across a wide variety of genres. Live shows provide musicians with crucial revenue opportunities during these challenging times. This aligns closely with our mission to connect artists with their fans through our Originals projects, recorded sessions and editorial content."
dreamstage is led by its three founders: CEO Thomas Hesse (former President of Sony Music for Global Digital Business and U.S. Sales/ Distribution), CTO Scott Chasin (serial entrepreneur with a track record of successfully founding and growing startups, including ProtectWise and MX Logic) and Artistic Director Jan Vogler (internationally known cellist and director of the Dresden Music Festival).