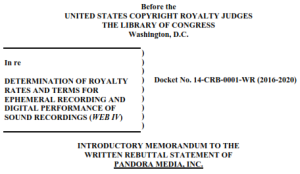 In the "Webcasting IV" rate-setting procedure, a two-year run-up to new statutory music licensing rates, Pandora filed a new document yesterday with the Copyright Royalty Board (CRB). The filing is part of a rebuttal phase, in which participating webcasters and music-rights stakeholders argue against each other's opening argument briefs, filed last fall. The opening arguments are called Direct Statements, and the proceeding is now in the rebuttal phase. (See our coverage of Pandora's Direct Statement here.)
"The contrasting positions are stark." –Pandora Media
In Pandora's rebuttal, the leading Internet radio service refutes arguments put forward by SoundExchange for higher royalty rates applied to online radio services.  In its Direct Statement, Pandora proposed royalty rates about half as much as SoundExchange's suggested rates, for the upcoming 2016-2020 royalty period.
In the current document, Pandora enlists the expert testimony of four individuals. Their arguments and research gang up on key assertions laid out in SoundExchange's Direct Statement, sometimes in overlapping fashion during the course of the 216-page submission. The main SoundExchange points that Pandora contradicts include:
Online radio services and on-demand services are converging: SoundExchange's assertion here is that non-interactive services like Pandora and interactive services like Spotify operate with a crucial degree of similarity, and to that degree function in the marketplace as substitutes for each other.
On-demand licensing rates should serve as a benchmark for online radio: Related to the above point is SoundExchange's assertion that royalties paid by on-demand services like Spotify (which are directly negotiated with record labels, not statutorily set by the government) should serve as a benchmark for new rates set by the Copyright Royalty Board (CRB). The "benchmark" issue is key to Pandora's entire rebuttal.
Pandora artificially limits its revenue by running fewer ads than it could: The assertion here is that Pandora seeks audience growth at the expense of higher revenue that it could be earning. Doing so would presumably make a case point for lower royalty rates.
To rebut these arguments, Pandora recruited the expertise of Mike Herring (Pandora CFO), Carl Shapiro (a business professor at the University of California, Berkeley, who also contributed to Pandora's direct statement), Larry Rosin (President of Edison Research), and Steven R. Peterson (Executive Vice President of Compass Lexecon).
On the "benchmark" issue of whether statutory rates for online radio should be modeled on negotiated rates in on-demand services, Carl Shapiro's rebuttal is poisonous: "[The on-demand] market is fatally infected with the market power of the major labels." That opinion is founded on a perception of a seller's market in which major labels own "must-have" content. "Under such circumstances," Pandora's summary reads, "the rates secured by the record labels will be even higher than the rates that would arise in a market monopolized by a single record company."
Concerning SoundExchange's assertion that Pandora artificially limits revenue, Mike Herring points out the "complex real-world considerations that Pandora must take into account in determining the optimal, revenue-maximizing level of advertisements on its service."  (That has been a theme in recent quarterly earnings calls.) Part of Herring's counter-argument is that more ads would cost user listening hours, for one thing, and for another would reduce the number of songs played, and licensing revenue paid for those songs.
Some of the most interesting witness testimony in the rebuttal document comes from Larry Rosin of Edison Research, whose company was commissioned by Pandora to study consumer appetite for music subscriptions. Edison's study examines the SoundExchange assertion that non-interactive online radio cannibalizes on-demand subscriptions. The survey result could seem surprisingly stark, even if you disagreed with the assertion. Among non-subscribers, there is almost no appetite for music subscriptions to on-demand services. The survey incrementally reduced the price point of hypothetical subscriptions down to $2.99 a month, and even then most people wouldn't bite.
Pandora is not the only webcaster participant in the Webasting IV" rate-setting procedure, but its leading market position frames a natural polarizationagainst SoundExchange, in which those two companies lead the arguments for lower or higher royalty rates. SoundExchange collects royalties from non-interactive music services on behalf of all labels and artists. Pandora's payments into this ecosystem add up to more than half of all SoundExchange collections.