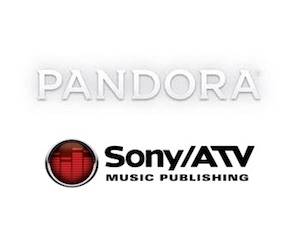 Pandora and Sony/ATV have entered into a direct publishing deal, marking a breakthrough marketplace development between one of the biggest streaming companies and a major music publisher. No details of the arrangement have been formally disclosed, but the implication seems to be that Sony's songwriters will be receiving larger royalty rates for plays through the online radio platform.
"We are pleased that our songwriters will begin to enjoy the benefit of better rates on one of the most important platforms for music consumption and discovery," Sony/ATV CEO and Chairman Martin Bandier said. "It is part of our ongoing strategy to ensure that all digital music services recognize the indispensable value that the words and music of a song bring to their businesses."
Pandora clarified in its press release that this agreement does not impact the rates it pays the rights holders of master recordings, which fall into different licensing regulations. While this new publishing deal could be more expensive for Pandora, it could still offer some stability to its catalog. "By partnering directly with Sony/ATV, we are proud to lock in our opportunity to connect an incredibly talented community of songwriters with streaming music's largest and most passionate audience," CEO Brian McAndrews said.
The deal also creates a real-market, directly negotiated licensing solution, in contrast to compulsory licensing provided by government-mandated Consent Decrees which have regulated the two major collection agencies for publishers, ASCAP and BMI (both of which have litigated against Pandora for higher rates to all their member publishers). Some publishing groups have wanted to escape the rigid terms of Consent Decrees, and the Sony/Pandora deal represents a marketplace example.