Pandora released a data-filled infographic in honor of receiving 50 billion thumbs. "Thumbs give each listener the power to make Pandora personal to them," the accompanying blog post said. "Every thumb up and thumb down has not only made your stations better, but helped us make better song choices for every listener."
The top 10 most thumbed-up songs include an interesting combination of new and old tunes. Journey's epic "Don't Stop Believin" took the top spot, followed by the more contemporary Drake hit "The Motto" and "Radioactive" from Imagine Dragons. Pandora also shared the songs that triggered each of the previous big billion-thumb markers, and that list also revealed a fascinating array of genres: everything from Dvorak to Jason Derulo is represented.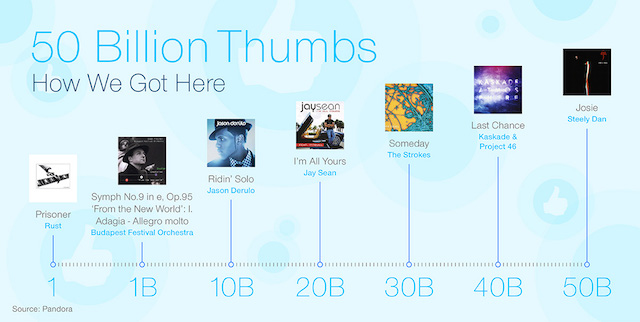 The infographic also shared some interesting demographic data about the sources of those many billions of thumbs. Teenagers thumbed the most, and women thumb more than men. Pandora's blog post has the full data set.