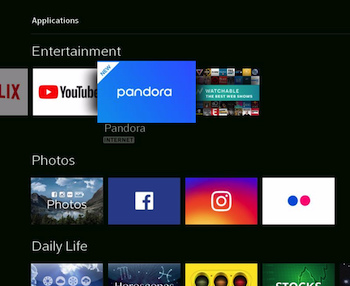 Pandora has partnered with Comcast to launch the its full suite of services on the Xfinity X1 set-top box. All of Pandora's features across all membership tiers have been integrated into the Comcast hardware, including support for voice commands, which work with the Xfinity X1 voice-controlled remote. This deal marks the debut of Pandora's subscription options on the Xfinity X1 platform.
"We're seeing explosive growth in listening through in-home devices like X1, and we're proud to be one of Comcast's premier online music streaming partners," Pandora Chief Product Officer Chris Phillips said. "Pandora continues to harness the power of X1 in new and innovative ways from voice-activation to easy, intuitive access to music throughout the platform, bringing music to the forefront of your in-home entertainment experience like never before."
"We are constantly improving the in-home entertainment experience by integrating new features and services into Xfinity X1," said Chris Satchell, executive vice president and chief product officer for Comcast Cable. "Our customers love the ability to play music through their television, which often have the best speakers in the house, and we are thrilled to expand our partnership with Pandora and provide Xfinity TV customers with seamless access to Pandora's full suite of online features on X1."
It is interesting to note X1's movement into audio service, and the inherent competition with smart speakers. the Xfinity X1 is a sort of specialized smart speaker for navigating Comcast's media choices. Within that ecosystem, both Pandora and iHeartRadio have announced integrations.