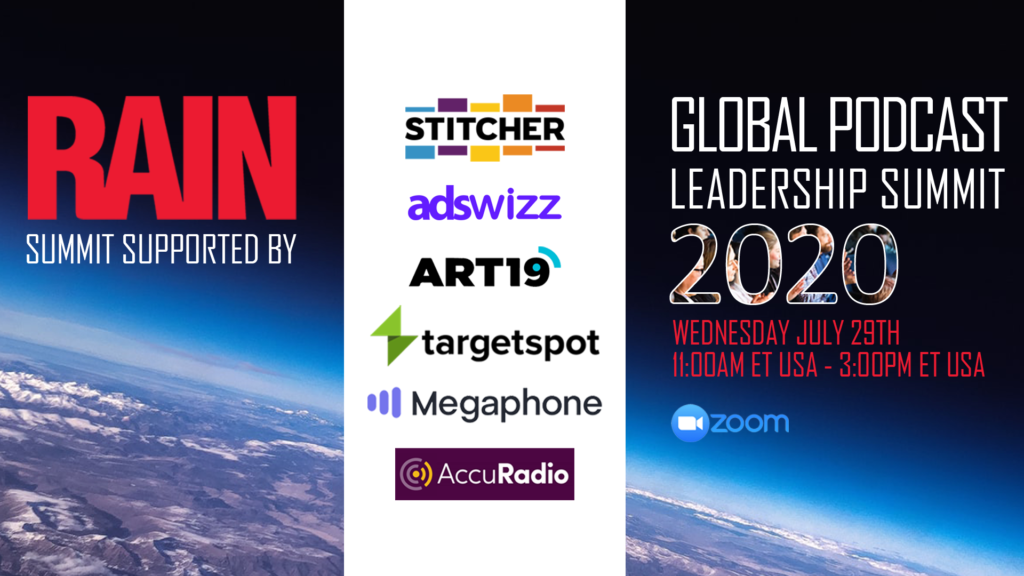 The RAIN Global Podcast Leadership Summit, RAIN's first virtual installation of its 20-year, highly regarded Summit series of business conferences, was a resounding success as two-dozen speakers from both hemispheres across 17 time zones delivered thought leadership to over 600 registered attendees.
Event highlights included six panels and two research presentations. Leaders of public radio behemoths in the U.S. (NPR), UK (BBC), Australia (ABC) and Canada (CBC) discussed strategies for creating and distributing on-demand audio. Podcast advertising technology and best practices were examined by speakers from Lex Friedman of ART19 and Dave Sosson from Targetspot.
"Amplifying Black Voices in the Podcast Industry" was a fascinating panel that included podcasting star Dr. Imani J. Walker, podcast network owner Chris Morrow (from The Loud Speaker), another network lead Berry (from Podcasts in Color), and moderated by T.Square, and executive producer at Stitcher.
New research was presented by Tom Webster, SVP at  Edison Research, offering a global range of podcast-industry insights culled from Edison's Share of Ear and Infinite Dial survey franchises. From Canada, Jeff Vidler (President, Signal Hill Insights) and Jeff Ulster (TPX), presented COVID-related data in a session called "Podcast Listening Post-Disruption."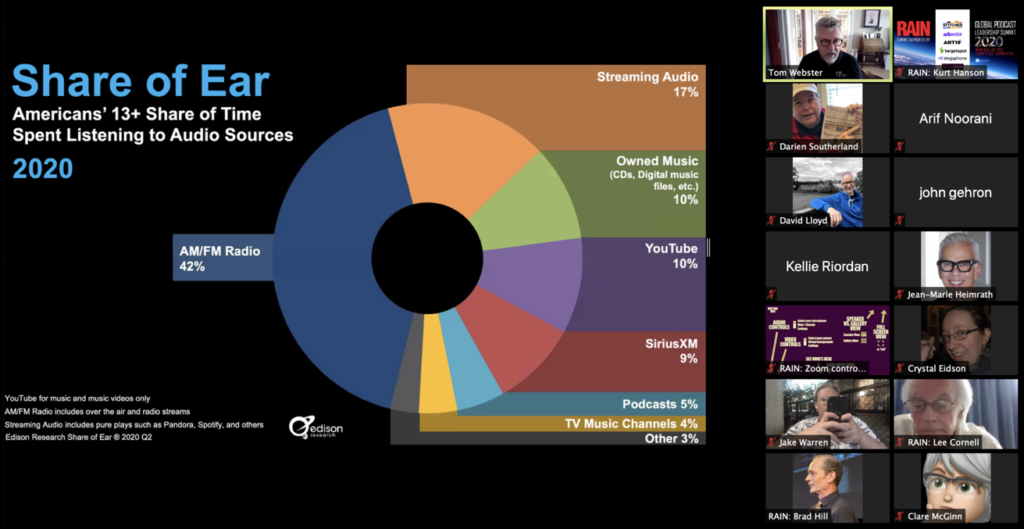 What makes a great podcast ad? That key topic was explored with great insight and humor by George Gehring (Megaphone), moderating two buy-side executives: Paula Mangin of Boyce-Mangin and Steph Beran Sanderson from Wordsworth+Booth.
RAIN Summit attendees are well acquainted with Steve Goldstein, who managed  a lively discussion with leaders of on-demand audio companies one might not normally associate with podcasting, but which are important players: Kathy Doyle (Macmillan Publishers), Will Mayo (Spoken Layer), and Laura Mayer (Three Uncanny Four, a division of Sony Music).
Capping the event, Podnews founder/editor James Cridland joined from Brisbane Australia to talk with Anne Frisbie (AdsWizz) and Brad Smith (Simplecast) about podcast analytics, ad targeting, and much more — AdsWizz and Simplecast are both acquired divisions of SiriusXM.