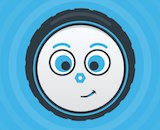 Otto Radio announced the launch of a new feature dubbed Themed Stations. The company, a personalized on-demand audio service, now allows users to create stations centered around more than 500,000 topics or themes. There are no restrictions on how many stations any user can create or how often they listen to them.
"Themed Stations is the natural extension of personalized spoken-word audio," said Stanley Yuan, Otto Radio's CEO and co-founder. "Now I can listen to a single broadcast related to all of my interests, or take a deep dive into one topic that I'm passionate about."
We took a test drive of Otto Radio Themed Stations. While we can't testify that 500,000 are available, Otto delivered content in response to our request for yoga, Bulgarian, weather, roofing, and dogs. In the Dogs station, we heard dog-related content within an episode of a general science podcast. (The algorithm was also fooled by One Billion Dogs, a song by Jay Som, which played in its entirety.)
Searching for the David Letterman theme, Otto smartly gave us the Dorothy Mengering station (Dorothy Mengering was Letterman's mother, recently pased away) in addition to content directly about Letterman.
We took the test a step further, asking Google Home and Amazon Alexa to play "a podcast about dogs." We knew that both devices would be unable to assemble a playlist as Otto Radio does; we were interested in whether either device could deliver a podcast based on keyword instead of title. Google Home came through with the Creative Dog Training Online Training Podcast. Alexa was flummoxed by the request.
Along with the Themed Stations, which are curated by algorithm, Otto Radio has also launched stations with human curation. The people behind these channels, the Station Managers, are chosen for subject-matter expertise. For instance, Dan Schwartzman of NBC Sports will be the Station Manager for NBA Radio.
Launched in 2015, Otto Radio offers users a way to listen to spoken-word audio – primarily news and podcasts – personalized to each listener's unique set of interests. In much the same way that Pandora leverages the Music Genome Project to personalize music, Otto Radio personalizes news, podcasts and other audio storytelling. Otto Radio won the RAIN Award for Best Audio Startup in 2016 — the result determined by an independent judging panel.