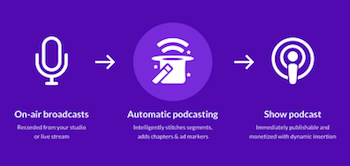 Omny Studio has introduced a new tool for transforming radio broadcasts into monetized podcasts. The company has added intelligent automation to its live broadcast capture software, which allows the creation of podcasts from broadcasts without manual editing. It can automatically compile clips from on-air show segments to make the content available on demand. Both the entire program or the individual segments can be set to publish after airing. The new feature is available now to all broadcast clients of Omny Studio worldwide.
"We simplified and modernized archiving radio content with our original broadcast capture software, and now we're taking that innovation one step further," Omny CEO Sharon Taylor said. "By turning the software into more of a team member for radio stations, we are removing two of the largest obstacles that broadcasters face when sharing their content in an on-demand setting – limited time and limited resources."
The new feature also takes advantage of Omny's integration with Triton Digital's advertising tools. The podcasts it creates can be set to automatically add pre-roll and mid-roll advertising markers between segments.
"The appetite for time-shifted audio is incredibly high, and Omny's automation feature makes it easy for broadcasters to both create and publish engaging content to serve this appetite," said John Rosso, Triton's president of market development.