Measurement company Media Monitors released its Q2 Podcast Listener Survey results. The public reveal contains the top 25 podcasts according to a survey conducted in June. Also, a list of podcast publishers with the most number of shows in the top-200 list (not publicly shown) and top 10 categories in which those 200 shows are slotted.
Complete Top 25 list is at the bottom of this post. See the Media Monitors post HERE.
Every show in the top 25 is familiar, in title at least, to anyone into podcasting. The Joe Rogan Experience and The Daily occupy the #1 and #2 spots. In the previous podcast listening survey, released by Media Monitors on February 18, Joe Rogan was likewise perchap on top, and The Daily was #7. (Phil in the Blanks: Dr. Phil's Podcast was #2.)
Also of note, both Joe Rogan and The Daily doubled their audience since the previous survey, according to Media Monitors' commentary.
Unsurprisingly, iHeartMedia and NPR are #1 and #2 respectively of top publishers based only on the number of shows  placed in the top 200 — iHM has 13 and NPR has 12. This is a blunt metric, saying nothing about downloads or reach.
Still referring to the top 200 list, Comedy is the top category (remembering that Joe Rogan and WTF with Marc Maron (which we presume to be in the top 200) asre categorized in comedy while rarely being comedic. (One of the worst flaws in Apple's widely adopted topography of podcasts in our view.)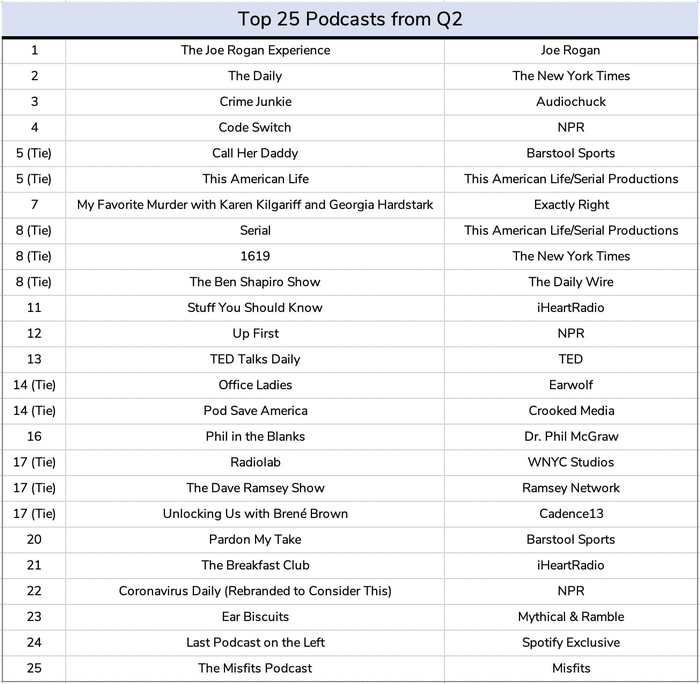 .