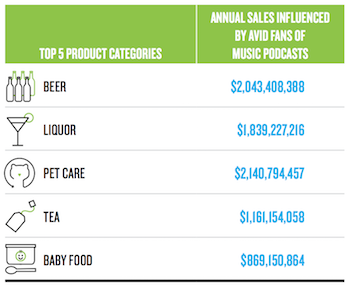 Nielsen has released a new report, the Marketer's Guide to Podcasting, investigating purchase habits among podcast listeners. Overall, the top product purchase annually for podcast fans is snacks, commanding $10.8 billion. Pet food, paper products, cheese, and bread & baked goods were the other top categories.
The analysis specifically highlights avid fans of podcasts, defined as individuals who dubbed themselves "extremely interested" in a certain podcast genre. Music and TV & movies had the largest audiences in this survey, both more than 60 million total households. Both those categories also reported the highest percentages of avid fans at 61%.
Avid fans of different topics had different top product categories for their spending. Avid fans of music podcasts commanded more than $2.04 billion in annual sales of beer, and their annual spend per household was 18% higher than the national average. Beer was also the top category of purchasing avid fans of podcasts about TV & movies, with more than $1.9 billion in annual sales and the annual spend per household was 14% above the national average.
The Nielsen report reviews other podcast genres such as comedy, technology, or games and hobbies.