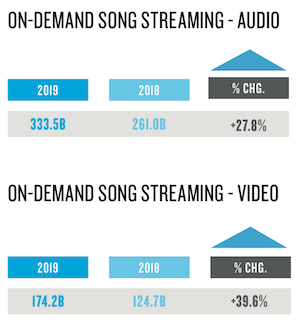 Nielsen Music released its mid-year report, another assessment of streaming driving consumption. Both audio and video streams on-demand continued to grow, while physical sales and digital downloads posted another period of decline.
One methodology note: Nielsen changed its equivalence calculations last year to give more weight to paid streams, with 1,250 paid audio streams counting as an album and 3,750 ad-supported audio or video streams per album. It adjusted its H1 2018 figures in the current report to use those equations for a more accurate comparison.
Total album equivalent consumption rose 15.7% on-year from 304 million units in H1 2018 to 351.6 million units in H1 2019. Audio-only album equivalent consumption grew 12.7%, from 270.7 million units to 305.2 million units. The first half generated 507.7 billion on-demand streams across audio and video, up 31.6% on year. Video posted a higher growth rate of 39.6% to reach 174.2 billion on-demand streams, but audio remained a bigger share, increasing 27.8% to 333.5 billion streams.
The top song for on-demand streams, both on the combined chart and for both audio and video alone, was Lil Nas X with Old Town Road. The report noted that TikTok helped catapult the track to popularity.
Other key trends in the report were the continued impact of film and television projects on related music acts. "Shallow" from A Star Is Born got a boost from the live performance at the 2019 Academy Awards. Biopics about Elton John and Freddie Mercury also spurred increases in catalog listens. Music documentary projects also boosted on-demand streams for Beyoncé and Mötley Crüe.