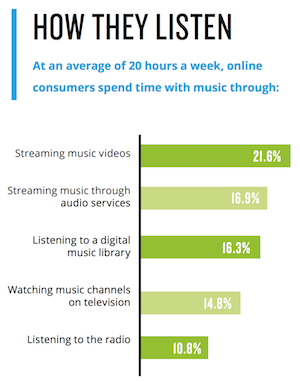 Nielsen has released a report centered on the Indian music industry and its unique position within the global business. The India Music 360 2018 report is based on surveys from June-July of 2018, with 1,570 surveys conducted in an age range of 16 to 45.
Music was the top interest for those surveyed, with 71% stating that music is an important part of their lives. It also has very high reach, with 94% of online consumers saying they listen to music, clocking an average of 20 hours per week with either primary or background listening. In the U.S., 90% of the general population listens to music with an total average time of 32 hours a week.
Streaming music videos is the top format in India, with a 21.6% share. Streaming via audio services was second with 16.9%, closely followed by a 16.3% who listen to a digital music library. Radio listening had just 10.8% of responses. YouTube is the top streaming service in India, followed by Jio Music in second and Google Play in third. Nielsen's U.S. comparison has a higher share for AM/FM radio (19%) and for audio streaming (23%), while streaming videos trail at 13%.
Within the audience for music streaming, 95% engaged with a playlist in the past year. User-created playlists were the most popular, followed by playlists shared by friends or family. Public playlists ranked third, while those generated by listener data and habits was last.