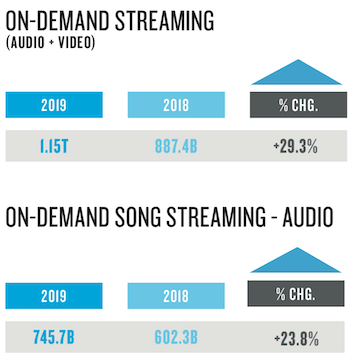 Nielsen Music has released its year-end report, the latest analysis to find streaming at the hop of the heap for the U.S. music industry. The report found total album equivalent consumption of 785 million units during 2019, up 15% from 2018. Audio-only total album equivalent consumption for the year was 678 million units, compared with 608.5 million units in 2018.
Nielsen found that the year generated 1.15 trillion on-demand streams in the U.S. Audio was responsible for 745.7 billion on-demand song streams, a 23.8% increase on-year, and video provided 401.2 billion on-demand song streams, a rise of 40.7%.
As with the BuzzAngle Music end-year report, album sales in the Nielsen assessment declined for the year. Total album sales dropped 18.7% to 112.7 million units. Digital album sales were 39.3 million, down 23.5%, and physical album sales dropped 15% to 73.5 million. Vinyl provided the lone increase, with LP sales up 14.5% to 18.8 million units.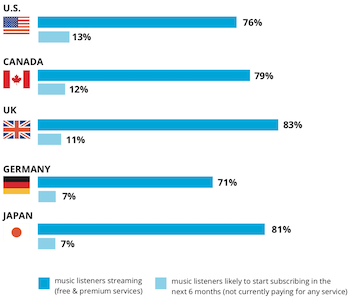 Nielsen also shared some demographic details about music consumption during the year. Teens have been heavy adopters of streaming and other digital tools. More than half (53%) of teens' weekly share of music time came from streaming, compared with 41% for the average music listener. Social media is key for teens' music discovery, with 31% using the platforms for that purpose.
The report also offered some global statistics, with analysis of key markets UK, Canada, Germany, and Japan. Nielsen noted that physical formats are still popular in the latter two countries, with 35% of German respondents intending to purchase physical music in the next six months and 47% giving the same answer in Japan.
The UK had the largest share of music listeners using free and premium streaming services at 83%, and 11% of current non-subscribers likely to start subscribing in the next six months. In Japan's audience, 81% are streaming but only 7% expect to start paying soon.