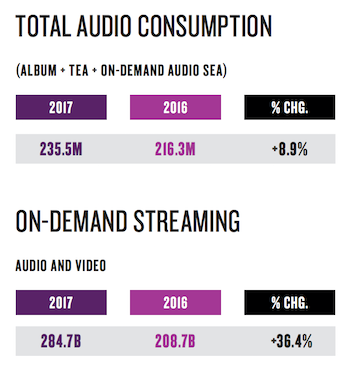 Nielsen has published its mid-year report analyzing music consumption for the first six months of 2017. The report traced many of the same trends as other major industry organizations, including a continued rise in the performance for streaming while sales numbers keep declining.
Total audio consumption in the first six months of the year rose 8.9% to 235.5 million units over the same period of 2016. The total audio metric includes album sales, track equivalent albums, and streaming equivalent albums. All on-demand streaming increased 36.4% to 284.7 billion streams. For audio only, consumption leapt up 62.4% to 184.3 billion streams in the first half of the year. Video on-demand has been progressing at a slower pace, rising just 5.4% over the previous first half to 100.3 billion streams.
Traditional sales continue to take a downward dive. The album and TEA sales dipped 19.9% to 112.6 million in the first six months. Physical albums posted 81.9 million sales for the period, down 18.3%. Digital album sales also fell 19.9% to 35.1 million and digital track sales dropped 24% to 307.1 million.
Nielsen's equivalence rates are set at 10 tracks counting as one album, and 1,500 streams count as one album.
The mid-year report included a few other compelling statistics. First, weekly on-demand audio streams have surpassed 7.5 billion. Pop star Taylor Swift returned her catalog to all streaming services in June, and that led to a 551% increase in the number of Taylor Swift streams for that month. Based on album consumption, the top release for the year to date is Kendrick Lamar's DAMN., with a strong performance in streams and album sales. Ed Sheeran's Shape of You is a top track for the period, topping the lists for digital song sales and audio/video on-demand streaming.