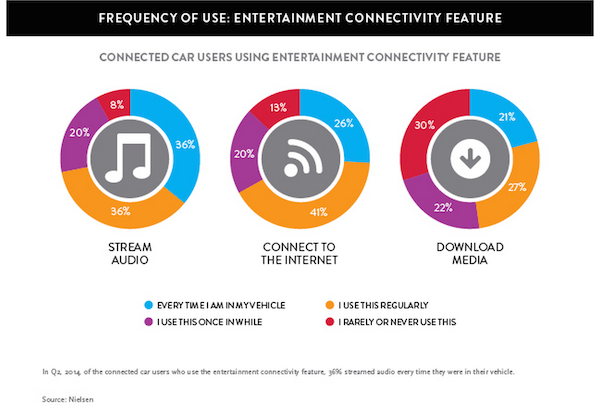 Nielsen published its latest insights on the outlook for connected cars. The high-tech vehicles were most appealing for the cool factor; 60% of future auto intenders said they want one to experience emerging technologies. But the desire for entertainment on the road was a close second, at 58% of future auto intenders.
In fact, the Nielsen results revealed that 36% of connected car users streamed audio every time they got in their vehicle during the second quarter of 2014. Another 36% streamed audio regularly, if not every single time. Only 8% said they rarely or never used that feature. The results also showed that 26% of these vehicle owners connected to the Internet every time they got behind the wheel, and 21% used that web connection to download media every time they were in their car.
Since almost a quarter of all weekly music listening happens in vehicles, the choices drivers make for how to play tunes will start to have a big impact on industry trends. As connected car services rise in popularity, the presence of streaming platforms directly in the dashboard will continue to challenge the dominance of terrestrial radio, even on its long-held home turf.