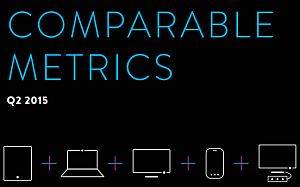 Nielsen has launched a media metrics snapshot called The Comparable Metrics Report. In the current edition, which captures data from Q2 2015 and compares it to Q2 2014, we can see cross-device usage generally, and as applied to audio listening.
"The objective of the Comparable Metrics Report is to eliminate the confusion around the definitions and terms across media and provide clarity in the form of apples-to-apples metrics," the report summary states. Key metrics are how many adults engage with a platform/activity, how often they do so (in days per week), and how much time they spend (in minutes).
Through this lens, the audio realm is refracted into four divisions: Radio, PC Streaming Audio, Smartphone Streaming Audio, and Tablet Streaming Audio. Adding up the different streaming modes shows an overall gain of 13% from 2014 to 2015, from 124 minutes per day on average to 143 minutes. Perhaps unexpectedly, the biggest gain was in tablet streaming, while PC and smartphone streaming remained fairly flat across the two years.
Radio listening inched downward by two percent year-over-year, 165 average daily minutes in 2014 and 162 minutes in 2015.
The reach story is different, with radio holding rock-steady at 93% in both samples, reaching 222-million U.S. adults. There is overlap in the three streaming modes, so adding up those numbers doesn't mean much. Interestingly, the tablet reach is the smallest percentage, but yielding the highest time spent listening in 2015. The reach percentage for each mode rose a little bit year-over-year. In 2015 Nielsen measured an 8.6% reach for PC streaming, 18.9% for smartphones, and 2.6% for tablets.
Demographics don't change the proportions much. Millennial (18-34) numbers hold up well for traditional radio and streaming. Radio reach rises to 95% for the 35-49 population slice. When the report gets to 50+ years old, radio reach dips a bit (91.5% in both years) while tablet listening becomes even more anachronistic: reach lowers to one percent of less in the two years, while average minutes per day rise to 82 minutes. In 2015, all streaming listening in the 50+ cohort (158 minutes) comes fairly close to radio's 175 minutes.