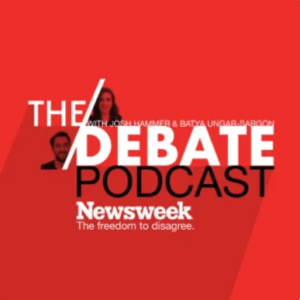 In what might seem a belated entry into the field, Newsweek has formally launched its first podcast, a current events show called The Debate. This podcast actually dropped its first episode on April 20, with little or no publicity, in what the company's PR describes as an experimental phase, and has published 13 episodes in the feed. The show is hosted by Josh Hammer and Batya Ungar-Sargon.
"Americans have not only come to align themselves within Red and Blue siloes, imbibing differing opinions and narratives—but to see the world itself through prisms of competing facts," said Hammer. "We at Newsweek's The Debate seek to remedy this tragic flaw by delving into the tough, thorny issues. We'll air it out and hear each other."
The content strategy and format that might seem influenced by The Argument, a New York Times show that brings experts together to verbally joust over modern controversies, and KCRW's Left, Right & Center, which pits journalists in civil debates of policy and politics. But actually the show is inspired by an ongoing Newsweek opinion section feature by the same name, pairing opposing thinkers side-by-side in written format. Additionally, the show has established partnerships with two respected public debate forums: American Public Square and Pairagraph. Both relationships allow the podcast's hosts to engage with audience-driven debates, and to tap into prominent voices and engaged citizens from across the country.
Recent topics in The Debate include the #metoo movement and dating, the future of the Republican party, and Critical Race Theory. Episode length runs between 40 and 60 minutes for the most part. In two recent episodes we sampled there were no sponsorship messages, but the hosts announced a break in both shows — then immediately returned to content.
Find the show: WEBSITE / APPLE / GOOGLE
.