Research firm Bridge Ratings released a new consumer survey of 2,200 consumers age 12-64 about why they do and don't like AM/AM, and why they like streaming. There is a clear tilt to this work, as the report does not contain any queries or responses for what people might dislike about streaming.
Bundled into an analysis titled Why Radio Can't Accommodate Today's Hit Music, the report starts off with a criticism of radio's Top-40 CHR format, which purportedly cannot keep up with listening trends as documented in streaming music charts because of its concentration on top-line hits while artists are engaging in rapid-fire song releases before full album releases. Taylor Swift's current chain of song drops is used as an example. (Bridge Ratings refers to its own charting of song popularity in streaming services.)
Whatever one might think about whether ACH's time-honored concentration strategy is right or wrong (or accurately represented by Bridge Ratings), that particular analysis seems separate from the survey results which follow, and which focus on why people like radio, dislike radio, and like streaming. Our interest is mainly on the survey results. We're glad we scrolled down the page to find them.
Why do some people prefer streaming to AM/FM? The answers uncovered by Bridge Ratings are unsurprising, covering a range of priorities familiar to those who follow consumer research of modern listening. Choice and variety top the list of reasons cited by respondents, and they make perfect sense — streaming specializes in a personally customized experience across a colossal catalog of music.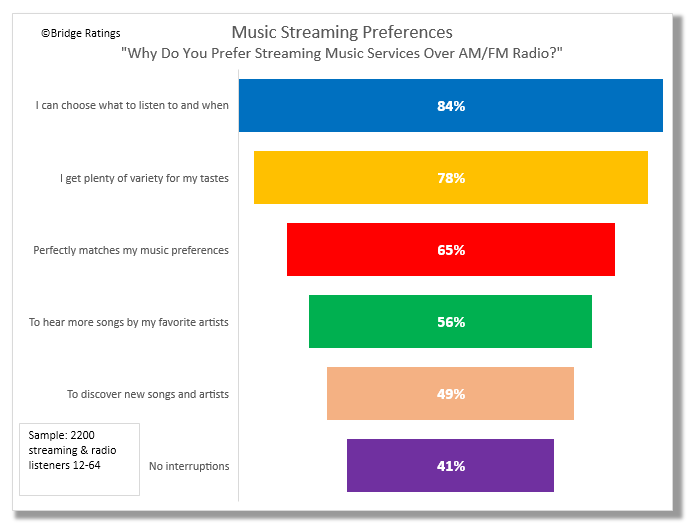 Why do people choose AM/FM? Ease of use, companionship, locality, and lean-back effortlessness are the leading answers. They spotlight terrestrial's significant legacy advantages.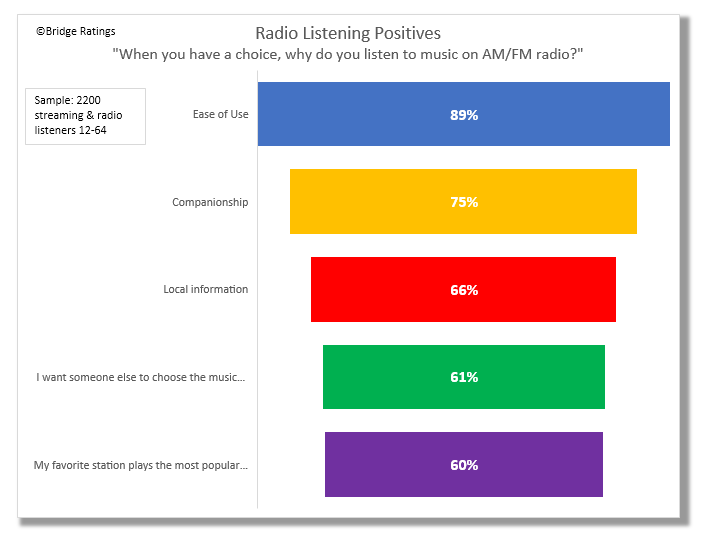 The study did not ask about streaming negatives (or at least Bridge did not publicize the results), but did query participants about "Radio Listening Negatives." Helpfully and interestingly, the results are broken out by respondent bias — radio partisans and streaming partisans. Just about everybody thinks there are too many commercials, radio's ball and chain in the user experience department. Lack of customization and variety also score high. One reported sentiment seems to support the preceding analysis about radio missing secondary hit songs: "Don't see to play all the great songs by my favorite artists/groups," a suggested reason agreed to by 90% of streamers, and 61% of radio partisans.