"The whole music subscription sector is intrinsically unprofitable."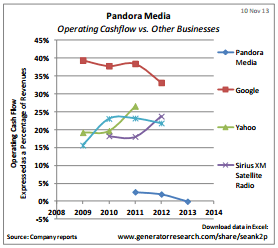 That is the stark conclusion of a 150-page financial research report released by British company Generator Research. Unsustainably high cost of operation will prevent profitability, according to the report, which examined Pandora, iTunes Radio, Deezer, Spotify, and other services in five major music markets.
The report lays the profitability problem plainly on cost of content — royalty payouts to music rights holders. Noting that between 60 and 70 percent of revenues are paid to labels and publishers, the study predicts that usage growth can never catch up to expense. Growth in both usage and revenue will be substantial, according to projections. Music subscription revenue will scale from $1.2-billion in 2013 to $4.2-billion in 2017. That will bring subscription revenue nearly equal with music-download revenue.
The study likewise predicts growth in the popularity of music subscriptions compared to free listening. The paid-subscription piece of the pie will widen from 4.7% in 2013 to 7.5% in 2017, or 36-million users to 125-million users.
The key metric in the study's profit pessimism is operating cash flow, or the percentage of incoming cash that survives the cost of operation. Using Pandora as a proxy, comparing its 2% of positive cash flow to that of profitable companies (30% for Google) leads to a conclusion that Pandora can never get into the black.
The report focuses on Pandora with a tone of incredulity: "[Pandora] is in dire straits. We are at a loss to know why the company's stock has performed so well, especially over the last 12 months." Generator Research recommends shorting Pandora stock, contrary to investor sentiment which has driven Pandora to a market capitalization of $7-billion.
More than a grim reality check for the sector as a whole, the study recommends that streaming music companies explore new avenues of monetization. It's either that, according to Generator Research, or sell out to a larger company which can afford the red ink. Proposed innovations include:
Super bundles: This term refers to a proposed combination of streaming and downloading for a higher subscription fee. Generator Research foresees Apple, Amazon, and Google heading toward super bundling.
Self-serve ads: This technical solution would reduce the cost of selling ads. Implicit in this suggestion is that Pandora's costly build-out of a local sales force (and all other on-the-street sales efforts) is unprofitable.
Selling behavioral data: The study seems to suggest that streaming music service borrow a page from Facebook, and sell its customer knowledge.
Reverse bundling: In addition to seeking partnership deals with telecom companies, sell telecom service through the music platform in an affiliate model.
UPSHOT: The executive summary is that streaming music is inherently unprofitable, because the music providers charge too much for content: "Music subscription services providers are all losing money, and that is going to remain the case until they find a way to monetize a worldwide user base that presently amounts to 767 million, and will grow to nearly 1.7 billion by 2017."