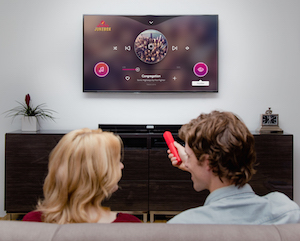 A new British startup has launched a physical device for music streaming. The Electric Jukebox is an HDMI device that connects to a TV and plays music over a WiFi network. It's an entire proprietary network, which differentiates it from the Chromecast, which pulls from third-party music services. New owners of the device get a free year of music access, but then must pay £60 a year to continue the ad-free subscription. The device alone costs £179 ($229) and those who order early can get a slight discount. It's available for the UK and U.S.
The selling point here seems to be simplicity. The press release promises that with Electric Jukebox, "for the first time streaming is as easy as playing a CD or switching on the radio." It doesn't require setup through a smartphone or an app; the company says you can just plug it into your TV and start playing once you're on a wireless connection.
"Whilst some may be comfortable with Spotify and Apple Music and spending hours configuring these services on specialist streaming devices, the vast majority of consumers really want something that works instantly, out of the box, without a monthly subscription or credit card," CEO Rob Lewis said. "That's what we've created."
Electric Jukebox features some celebrity involvement, including curated playlists from performers Sheryl Crow and Robbie Williams. The other features are standard, with sections for the user's music collection, discovery, and search. There are programmed channels, and listeners can also label favorites.