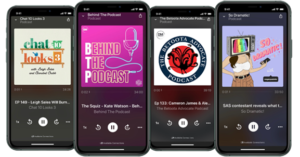 iHeartPodcast Network Australia, which is managed by Australian radio group ARN, is partnering with DM Podcasts (Diamantina Media).  At the same time, ARN is announcing that iHeartPodcast Network Australia is a sponsor of the 2020 Australian Podcast Awards, which happen later this month. (Five iHPNA shows are nominated for awards.)
The three entities — iHeartPodcast Network Australia, DM Podcasts, and the Australian Podcast Awards — are combining to produce a new series called Behind the Podcast. It takes listeners behind the scenes of Australian podcasting. The new podcast has launched, and can be heard HERE.
DM Podcasts' portfolio of shows includes Betoota Advocate, Chat 10 Looks 3, and So Dramatic!
Director of Podcasts and Strategy at DM, Antony Stockdale said, "DM is thrilled to work with the iHeartPodcast Network Australia to monetise and grow our audience. This relationship allows DM to focus on what we do best, create entertaining and engaging content.  It is a team we know and trust."
Of the two partnerships,ARN's Head of Commercial Audio & Podcasts Corey Laytonsaid, "ARN has always been a supporter of great Aussie content and creators, and we are excited to sponsor the 2020 Australian Podcast Awards to drive awareness and showcase the plethora of brilliant Australian podcasts. We are also delighted to partner with Diamantina Media. The scale and breadth of their content slate is exceptional, aligning with our ambition to support the best Australian podcast creators, paired with opportunities for brands. Behind the Podcasts takes that support a step further, showcasing and educating the next generation of storytellers and audio creators."
.