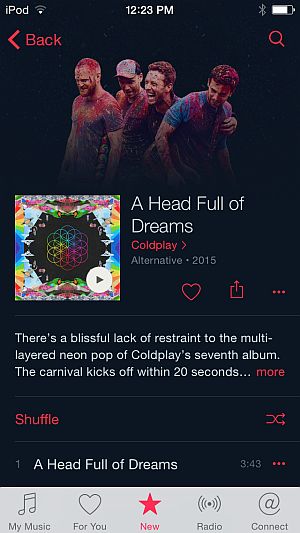 Another week, another potentially big album release with a streaming distribution strategy. In the wake of Adele's music-market takeover last week, Coldplay released the A Head Full of Dreams project today.
Unlike Adele's comprehensive rejection of on-demand streaming platforms, Coldplay's streaming strategy is more precise. Spotify doesn't have it, which of course is generating buzz today. An article in The Wrap notes this message in Spotify on Coldplay's album page: "The artist or their representatives have decided not to release this album on Spotify just yet. We're working on it, and hope we can change their minds soon." We could not verify that message, but the album is not in Spotify's catalog as of this morning.
We did find it in Rhapsody, and Apple Music makes it hard to miss, giving over its "New" section to several promotions.
A search for the album title in Pandora came up empty, and a station seeded with the band did not play from the new album during our test listening.
It's possible that Pandora has not completely ingested A Head Full of Dreams into its Music Genome system, but there was no discernible delay with Adele's 25 on its release date.
As of this post, Coldplay's album is not heard on the world's two leading streaming platforms, one of which (Pandora) is Internet Radio that doesn't allow on-demand playing of songs or albums. Spotify is an on-demand service, but operates a non-subscription listening service alongside the paid membership, which offers more on-demand interactivity than Rhapsody or Apple Music. It is that distinction which leads observers to claim that Coldplay is rejecting freemium platforms, which is somewhat substantiated by this quote from an anonymous source in The Guardian: "The band's team aren't anti-Spotify, they're just not in love with 'free' – you can probably expect it to drop on the service after a few weeks."