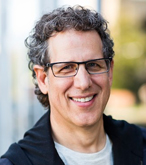 PodcastOne announced that Jim Berk has come aboard as Chief Executive Officer. Berk comes from Participant media, where he was CEO for nine years. During that time he developed and/or financed many films including the Kite Runner, The Best Exotic Marigold Hotel, Waiting for Superman, Lincoln, and Bridge of Spies.
Before that, Berk was the chief executive of Gryphon Colleges Corporation. He has also help top leadership roles at Fairfield Communities, Inc. (sold to Cendant for $635-million) and Hard Rock Cafe International. Berk was the founding Executive Director of the National Academy of Recording Arts & Sciences Foundation (which runs the Grammy Awards). He is also Chair of the Executive Board of the UCLA School of Theater, Film and Television. The words "Chairman," "Executive," and "Chief" are woven throughout Berk's multi-faceted media career.
PodcastOne founder Norm Pattiz maintains his role as Executive Chairman, and Kit Gray continues as President.
"Jim has done tremendous work in transitioning companies to their next stage of growth, and with him joining the PodcastOne leadership team, our possibilities are endless," said Norm Pattiz.
PodcastOne sold 30% of its equity to Hubbard Radio last August. At that time Norm Pattiz told RAIN News that the cash influx would fuel expansion, and grabbing Jim Berk seems part of that. The press announcement signals more to come: "Amplifying PodcastOne's executive structure positions the company for accelerated strategic growth through acquisitions, investments and content development in the near future."
The current metrics snapshot is the basis of PodcastOne's claim to be "the nation's largest advertiser-supported podcast network" — 200 shows, 1.5-billion downloads in 2015, over 400-million ad impressions monthly, and over 100 "major brand advertisers."
Below: Interview with Norm Pattiz at RAIN Summit West, April 17 in Las Vegas.
Fireside Chat: Norm Pattiz from RAIN Summits on Vimeo.