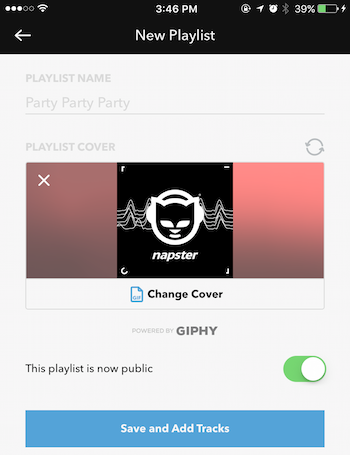 Napster has launched new tools for making interactive playlists through a partnership with Giphy. Creations made with the Interactive Playlist Maker can be personalized with gifs, which Napster said is a first for a streaming music service. Napster is also recommending gifs to be used with a playlist based on its title. The Interactive Playlist Maker also offers contextual track suggestions. Listeners can easily add or dismiss those song suggestions with Tinder-like swiping.
"At Napster, we're focused on making playlist building and sharing easier, more intuitive and more expressive for each listener," Napster CEO Mike Davis said. "Early testing showed that Napster subscribers are nearly twice as likely to share playlists featured with a GIF.
We're thrilled to partner with GIPHY to roll out features that help our subscribers bring their playlists to life, and share more music."
To mark the new collaboration, Napster is hosting a contest for subscribers. Anyone who creates something with the Interactive Playlist Maker will be eligible to enter the contest to win a one year subscription to Napster.