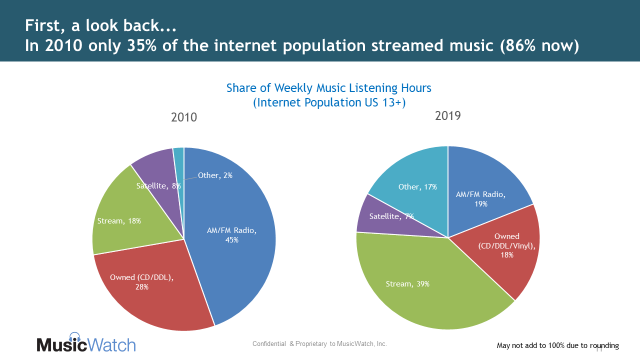 MusicWatch has released its Annual Music Study, a survey of U.S. music consumption. The report offers a positive snapshot about the industry's growth, with streaming playing a key role in the results.
The number of U.S. music buyers age 13 and up reached 116 million during 2019, the largest that audience has been since 2007. That group includes people listening by paid subscriptions and buying CDs, digital downloads, and new vinyl. In 2019, 80 million people said they paid for a music subscription, up 12 million from the 2018 result.
MusicWatch found that the U.S. streaming audience hit 204 million people last year. It was the first time the audience surpassed the 200 million milestone. Both paid and ad-supported streaming represented 39% of all music listening in the country. YouTube held the largest share of music listening for streaming services in the final quarter of 2019, but Spotify, Apple, and Amazon all reported growth for their shares.
Smart speakers have been a growing segment, and MusicWatch's data reflected the trend. The report found that the U.S. had 104 million smart speaker users in the fourth quarter of 2019.