A newly released national poll commissioned by artist advocacy group musicFIRST intends to paint a picture of an American public that wants AM/FM terrestrial radio broadcasting to pay artist royalties for recordings played on-air. The American broadcast radio industry has always been exempt from those royalties, almost uniquely in the world. AM/FM radio does pay for use of records in its online AM/FM streams.
The battle surrounding this issue is a long-fought one, waged by musicians and their institutional advocates on one hand, and the radio industry supported by its main lobbying body, the National Association of Broadcasters (NAB), on the other hand. [RAIN has partnered with NAB and RAB in many business conferences. RAIN has also enjoyed business relationships with all major streaming platforms, which do pay royalties for using music recordings. RAIN News coverage of this issue seeks to represent all viewpoints fairly.]
The musicFIRST study asserts that most Americans are unaware of the royalty situation in American radio. When they are told about radio's exemption, the study found that respondents think it's unfair, by a two-to-one margin.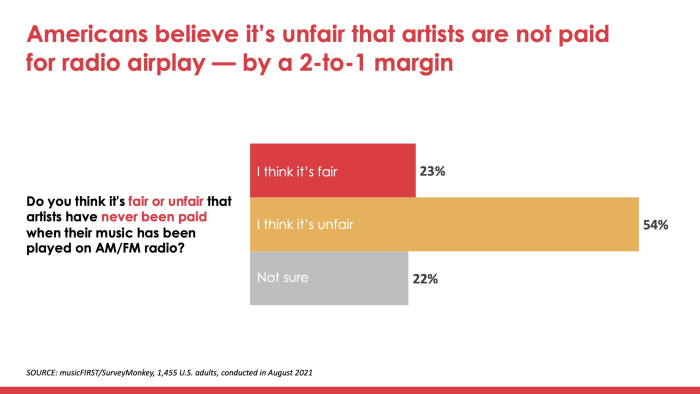 We think it's interesting that "fair" and "Not sure" add up to nearly half the survey responses. So while musicFIRST uses this language in its PR: "A new national poll […] shows that the American public backs bold action to ensure that artists are treated with respect and paid when their songs are played on AM/FM radio," the survey response shows a slimmer majority than might be expected.
Another survey question seems to indicate that Americans might prefer that musicians take action on the issue (majority agreement), rather than a boycott by radio advertisers (plurality agreement):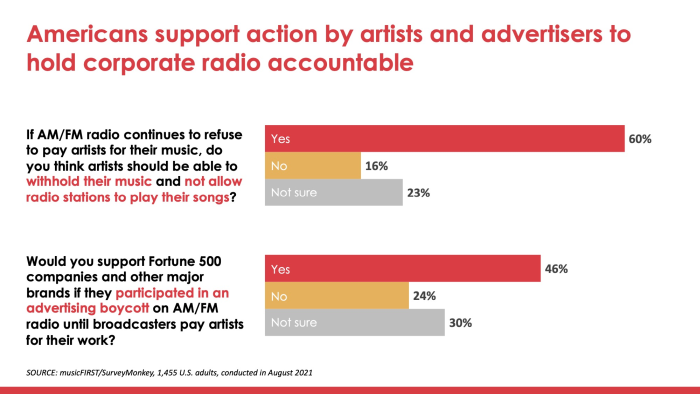 The final survey result provided by musicFIRST gets to the essential rationale of radio's exemption, and undermines it at least to some degree. Survey participants were asked to identify the music distribution pathways by which they discover music. Radio's royalty exemption dates from a time when AM/FM was undoubtedly the primary music discovery channel. Digital distribution has changed that: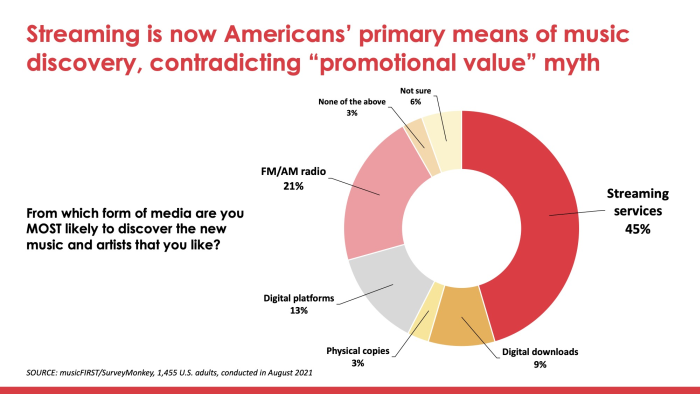 The result shows that AM/FM is the "most likely" discovery path to only 21% of respondents, while streaming services (which do pay the entire royalty spectrum) are the primary path for 45%.
This is the crux of the argument on the creator side: The exemption rationale is no longer true — or not true enough to justify the exemption.
On the radio side, the argument lobbied by the NAB has seemed, in recent years, mainly based on business impact. Radio is conceived as a nationally distributed coalition of local and hyper-local businesses whose finances are founded on a cost basis that doesn't include paying royalties for use of records. (Terrestrial AM/FM does pay songwriter royalties, a different slice of the music revenue pie.)
Pro-radio lobbying has consistently referred to the looming royalty threat as a "tax" — terminology which is provocative and a bit squishy, since royalty payments don't end up in the U.S. Treasury. But it's a powerful talking point on behalf of a challenged industry threatened with a new cost levied by Congress.
Within the House of Representatives, 188 members have signed the Local Radio Freedom Act, a non-binding declaration of commitment to keep the exemption. Here is the summary language: "This concurrent resolution declares that Congress should not impose any new performance fee, tax, royalty, or other charge relating to the public performance of sound recordings on a local radio station for broadcasting sound recordings over the air, or on any business for such public performance of sound recordings."
.