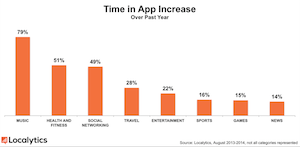 Research from Localytics confirmed that mobile is still the rising trend for music services. In the company's analysis of app usage over the past year, people spent 79% more time in their music programs, which translates to 64 more minutes per month. Compare that with the average increase of 21% for time spent across all apps. The next closest category to music was health and fitness, which posted a 51% rise for time spent in-app.
The results also revealed the number of times various app categories were opened. During the month of August 2014, music was the third-most frequently used app group, falling behind social networking and sports apps with an average of 16.3 launches. However, people spent the longest amount time in those sessions, with an average length of 8.9 minutes.
This assessment by Localytics is the latest study to demonstrate how much music has become a mobile activity. Triton Digital's monthly webcast reports and The Infinite Dial's research have also confirmed this migration to mobile listening.