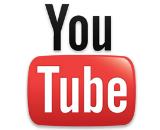 Two more musicians are joining the calls for a change to YouTube's payment systems. The New York Post reported that Blondie frontwoman Debbie Harry will call on President Barack Obama to intervene on safe harbor rules, which protect online services from liability when their users upload infringing content.
Nikki Sixx, a cofounder of Mötley Crüe, has been adding his voice to the charge in his efforts to promote a new album and tour with his current group Sixx:AM. "If bands can't get paid, how are they going to make the music?" he said. "We're calling for a change."
Performers and labels have been increasingly vocal in their complaints about how certain online services pay royalties for music. The industry sent three letters to the U.S. Copyright Office at the start of the month with calls for the safe harbor rules to be changed; household names such as Billy Joel, Katy Perry, and Rod Stewart were part of that wave. The addition of more and more performers could eventually start to sway opinions among listeners. If they continue to put the discussion in front of their fans as well as the government, that could mobilize more public feeling in favor of changing the laws.
YouTube has taken a stand in its own defense. The video platform made its own filing to the U.S. Copyright Office that argued its Content ID system was a sufficient tool for the performers and labels to manage their music and rights.